Make a difference on your campus
It starts with your vision
"All authority in heaven and on earth has been given to me. Therefore, go and make disciples of all nations, baptizing them in the name of the Father and of the Son and of the Holy Spirit, and teaching them to obey everything I have commanded you. And surely I am with you always, to the very end of the age."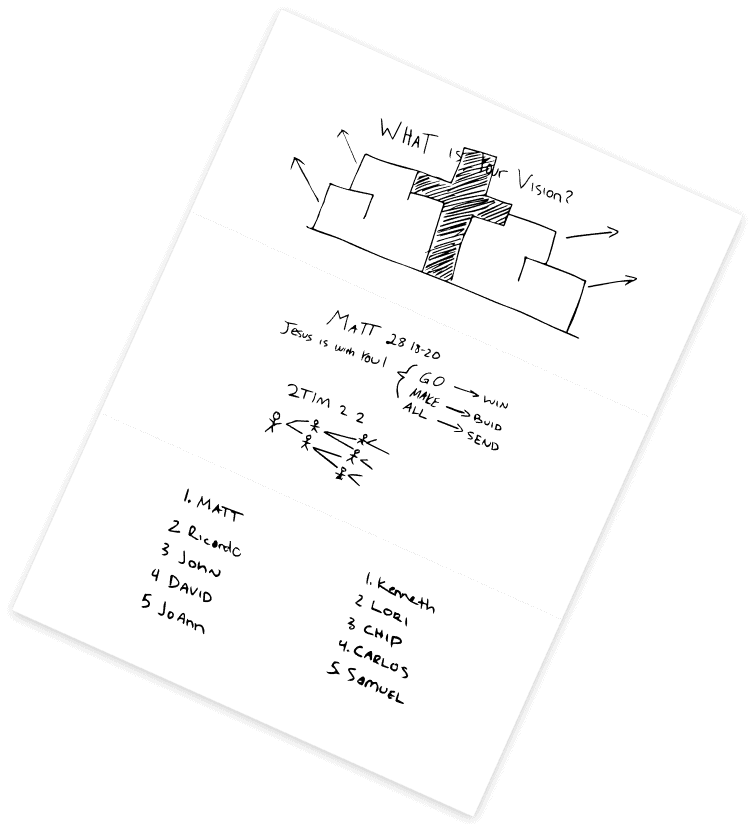 Your first step is to look for Christian students who might have the same desire. You want to find people who are willing to share the gospel with others; who are willing to believe God for big things.
Invite others using the Key Volunteer Challenge.
Let's start with those you listed on your vision sheet. Set a time with each of them and go through the Challenge together.
You can use the Key Volunteer Challenge video below to help, but what's most important is seeing if God is giving them the same vision for your school.
The Key Volunteer Challenge is an organized way of presenting the Great Commission and explaining spiritual multiplication to someone. By challenging them to share their faith with five non-believing friends and the Key Volunteer Challenge with five other Christians, you quickly have the chance to find 10 others aligned with the vision of making disciples.
How to use the Key Volunteer Challenge
MissionHub is a free app to help you be intentional with those around you. In MissionHub you can create communities and invite your potential key volunteers to join you. Within a MissionHub community you can stay connected with those that have joined you. You can even create community challenges for them to be a part of such as:
Share The Gospel with a student on your campus.
Present The Key Volunteer Challenge to a potential Volunteer.
Evangelism as a way of life
Sharing Jesus With Others
Sharing the gospel with people on campus can be part of your daily life. It is important to know how to lead others into a relationship with Jesus. There are many who would begin a relationship with God today if someone simply told them how.
Who on your list do you want to share with first?
Below are two tools to help you do that simply and authentically.
Tools to help you Share The Gospel
These tools help you simply and clearly explain to someone how they can begin a relationship with God through Jesus Christ.
EveryStudent.com is a safe place to explore questions about who God is and what it might be like to know God.
You're ready to get started
If you haven't signed up yet to request a coach, hit the Sign Up button below.